COL DE ROUSSET Ski Rental - ALGOUD SPORTS Ski Hire
ALGOUD SPORTS - COL DE ROUSSET - HOME
COL DE ROUSSET Ski Rental - ALGOUD SPORTS Ski Hire : book your ski and snowboard equipment online ! You will have the best prices.
HOME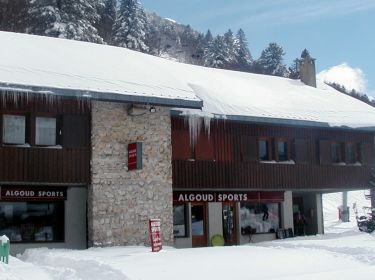 Welcome to ALGOUD SPORTS - COL DE ROUSSET
Hire specialist skiing and snowboarding, cross-country skiing, touring skiing, snowshoeing as well as technical products for skiing and mountain-related activities.
From beginners to experts, we provide a wide selection of ski equipment selected among the most major brands, suitable to all levels of experience.
Choice, advices, our team's professional approach and experience will guide you in your choice of ski equipment. Add to that, our passion for skiing and you can't go wrong.
See you soon in COL DE ROUSSET,
ALGOUD SPORTS team
ADVANTAGES ALGOUD SPORTS

The 7th day is free!
Don't hesitate to come and hire your equipment on Saturday morning or to have an extra day's skiing: the 7th day is FREE!

Ski or snowboard?
With the Multi-Glides option, you change when you want!

Free ski storage
Free storage for rented equipement (skis only).

Secure Payment
Information? Contact us...
04 75 48 25 03
Col de Rousset
26420 SAINT AGNAN EN VERCORS